As you may know, I'm currently residing in San Francisco, studying at the
LINES Ballet I'll be here for a month's time, and have already discovered that I relish big-city living, and have great contempt for tourists.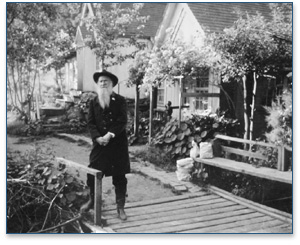 I arrived yesterday morning just in time to head to the park with my Aunt Judith and cousin Mariah, where I scraped myself on the funeral pyre of Joaquin Miller, the enigmatic poet/hermit of Oakland. This morning I had my first classes, and I'm already exhausted. Knowing that I had the option of either staying home and vegging or getting out and seeing the city, I opted to visit this interesting combination cafe/laundromat where I sadly missed the band I was hoping to see, iamb, but I did get to hear their fraternal group, Candle, who also plays pretty good music. I had forgotten how much I miss this sort of show. It encouraged me to come home and practice my own music a bit. The fog here is very cold.